If you care about freedom in America, you have to understand it.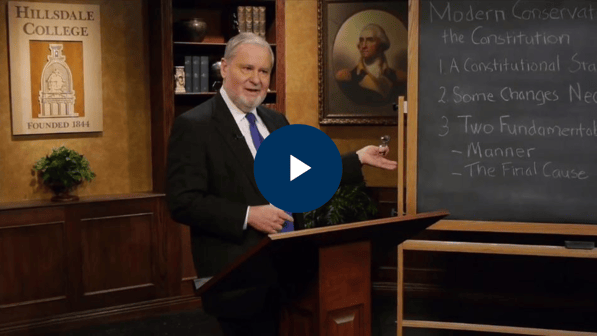 The U.S. Constitution is the key to securing liberty for all Americans, yet few know exactly what it says, and what freedoms it protects. In fact, a recent study showed that only 1 in 4 Americans can name all three branches of government. That's why Hillsdale College is dedicated to educating millions of Americans about what the Constitution says and what it means. Hillsdale is one of the only colleges in America—outside of the military academies—that requires every student to take a course on the Constitution in order to graduate. As someone interested in learning and concerned about liberty, you'll be glad you took this important Hillsdale course. Over 900,000 of your fellow citizens have enrolled, making "Constitution 101" by far Hillsdale's most popular online course. But the most important student in the course is still missing: YOU! In "Constitution 101," you'll study:
Lecture 1: "The American Founding: Revolutionary or Conservative?"
Lecture 2: "The Theory of the Declaration and the Constitution"
Lecture 3: "The Problem of Majority Tyranny and the Necessity of Union"
Lecture 4: "Consent of the Governed and the Separation of Powers"
Lecture 5: "To Secure These Rights: Economics, Religion, and Character"
Lecture 6: "Crisis of the Constitution: Slavery and Secession"
Lecture 7: "The Progressive Rejection of the Principles of the Declaration"
Lecture 8: "The Progressive Assault on the Constitution"
Lecture 9: "The Administrative State Today"
Lecture 10: "Modern Conservatism and the Constitution"
So take this free online course and share it with your family and friends. Deepen your understanding of the Constitution—still just as relevant as it was two centuries ago—and equip yourself to defend our nation's founding principles of liberty. There is no cost to participate, and you can watch the lectures at your leisure. You'll even receive a free Certificate of Completion once you finish the course.
Follow Hillsdale College Online Courses
33 East College St  Hillsdale,  MI  49242  USA
_________________________________________________________